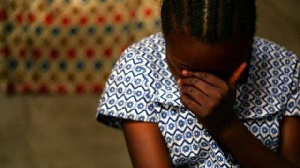 A 34-year-old Farmer, Daniel Sefah has been dragged to Court for allegedly raping a 22-year-old epileptic daughter of a pastor in the Eastern Region.
Rev. Minister of Apostle of Kingdom of Christ Church at Bonponso, a community near Akyem Kukurantumi lodged a complaint at DOVVSU on November 1, 2017, at about 7:00 pm.

Narrating the incident, Father of the victim said she was sent on an errand by her Mother and on her way, the accused, Daniel Sefah met her close to the church, lured her into a Primary School where he forcibly had sexual intercourse with her at the back of the school urinal. Unfortunately for the accused, he was spotted by a man who was standing at the entrance of his house who became suspicious and curiously went closer to where he heard the victim crying in the darkness. He went towards the direction and found the accused on top of the Victim having sexual intercourse with her.

The man accosted the two and sent them to the house of the Chief of the area, Nene Magi Tawiah.

The accused person admitted the offense in the presence of the Unit Committee members and residents after which a complaint was lodged at the Kukurantumi Police station and Police medical form was issued after which medical report confirmed the actions.
The accused admitted the offense but said the Victim is his girlfriend since she accepted his proposal on November 1 this year and agreed to have sex with him.

The accused has been charged with rape by Prosecutor, Chief Inspector Solomon Keelson, and the Case was adjourned during his appearance at the Koforidua Circuit Court "A".

Meanwhile, the trial Judge has ordered for a medical report on the health and mental status of the Victim.