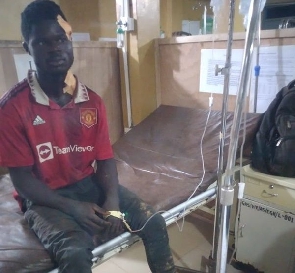 Four person's nearly lost their lives from a gun attack at Banaso, a small mining community near Enchi in the Aowin Municipality of the Western North region.
The incident which occured on Tuesday, August 1 is currently under police investigation to unravel how and what brought about the shooting that led to the injuring of these four persons.

According to UTV News source, an official of Innovation for Poverty Action (IPA) an NGO who went to Banaso community to conduct a survey on performance of school children in these mining areas was attacked by Chinese galamseyers with their Ghanaian counterparts.

According to the source, the official from the NGO after visiting the school, realized that a lot of school children were absent from class and for that matter decided to visit them in their respective homes to ascertain what led to their absenteesim.

The official of the NGO according to UTV News Western North Regional Correspondent, Kwabena Dickson hired a tricycle porpularly known as 'Pragya' to visit these school children.

On their way to the community, they got to a small bridge linking the community and where they attend school but unfortunately, the wood on the bridge was taken away by some unknown persons making it difficult to cross.

While waiting to find a solution to cross the bridge, there was a misunderstanding between some members of the community who are miners and the Chinese miners with their Ghanaian counterpart over that mining site.
The source disclosed that at that moment, the Chinese illegal miners had finished mining and preparing to transport what they call 'Black' to town but upon realizing the wood on the bridge had been taken off and some of the community folks had invaded the area, they taught some persons were planning to rob them of their 'Black Gold'.

The source disclosed that an order was given by a Chinese miner to shoot, so the leader of the security guide who's only name was given as Soldier pointed the gun at where the 'Pragya' was parked and started shooting indiscriminately.

The community folks who were there run away for their lives whiles those who can swim dived in the river.

Two female pupils, the 'pragya' driver and an official of the NGO were hit by a bullet the galamsey security guard shot.

They four person's were rushed to a nearby health centre for First aid and later transfered to Enchi Government Hospital but later refered to Asankragua Hospital.

Information available to UTV News indicates, they have been referred to Kumasi to remove the pellets.
An eyewitness believes the NGO official was hit in the head.

The police are currently looking for Soldier, the Security guard who shot the gun.

Meanwhile, some person who spoke to Kwabena Dickson on condition of anonymity explained that the guy who shot the gun is very fearsome in the Bonsaso community but have currently relocated to Apke Allah, a small mining community near the area.