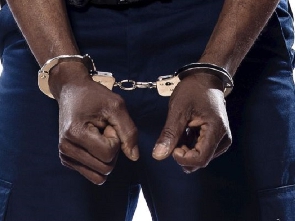 The police have apprehended a man who attempted to exploit his biological brother for rituals in Mumuni, in the Western region's Amenfi East district.
Nana Fynn, who covered the story, stated that the suspect, who is into galamsey, wanted to make more money from illicit mining activities.

He supposedly consulted an oracle and was told that for his request to be accomplished, he would have to make a human sacrifice.

Following that, he allegedly attempted to use his senior brother for the sacrifice.

But luck was against him, and he was apprehended by the police.

Nana Fynn reported that the story has shocked residents in the area.
Details of the story

The suspect, whose name was only revealed as Combat, is believed to have asked another friend, Ben, to introduce him to a spiritualist who could do black magic for him.

He is claimed to have repeatedly requested Ben's assistance since he had located a land where he was engaged in galamsey and needed to extract additional gold.

Later, Combat told Ben that he was willing to sacrifice a human person if it meant that his wish would be accomplished.

Ben, on the other hand, grew concerned after learning that his friend was willing to sacrifice a human being.
Ben then confided in someone else about the situation.

Ben and the other person conspired and later informed Combat that they had located a spiritualist eager to help him for GHC7,000.

Combat negotiated the price and was then requested to buy some items and bring the person he was willing to sacrifice with him.

Ben and his other acquaintance, who was supposed to be a spiritualist, had contacted the police about the situation, unbeknownst to Combat.

Combat then requested his senior brother to accompany him somewhere, and while they were on their way, his brother, whom he (Combat) meant to use for the sacrifice, inquired as to what he planned to do with the materials he had purchased.
He informed his brother that his wife had requested that he acquire them.

When the man posing as the spiritualist arrived, he asked Combat about his objective, and Combat said that he was going to offer his brother as a human sacrifice so that his galamsey business could prosper.

At this point, his brother became shocked and wondered why his biological brother would deceive him into escorting him somewhere only to appear there and discover he was to be used for a human sacrifice.

The victim attempted to flee, but police officers in plain clothes who were present at the time stopped him and announced themselves as officials of the law.

The culprit was apprehended alongside Ben and his friend, who told the police about the situation to keep Combat from suspecting he was being played.
Ben and his other companion were later released.