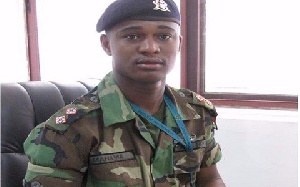 Mr Baffour Appenteng Nyamekye, Assistant Commissioner of Police, has told an Accra High Court trying the alleged murderers of the late Major Maxwell Mahama that investigations was not based solely on the video.
He said the Police also investigated the accused person, where they made admissions and confessions in some of their statement they gave to the police and that they were in their right frame of mind and not under any duress.

Mr Appenteng, who is the twelfth-prosecution witness, was answering questions in further cross-examination by Mr Patrick Anim Addo, counsel for Bismarck Abanga and Kwadwo Anima.

Asked, whether, he watched the video in circulation and when was the first time he watched it, the witness answered in the affirmative and said he watched the video for the first time when he arrived at Diaso on the night of May 30th 2019 at 0200 hours.

The witness said the second time was during the interrogation process at the Criminal Investigations Department Headquarters in Accra together with the accused persons.

When asked, where the Police got the video from before watching it, the witness said the video was all over social media.
Counsel then posed a question that "So, the Police did their investigations from a social media video," but the witness disagreed, saying the investigations did not only focus on the video, it also concentrated on other factors.

Mr Anim-Addo asked whether the Police watched the video as a team on their mobile phones, the Assistant Commissioner of Police disagreed, saying at the CID Headquarter, the video was projected on a big screen for the viewing of all.

Counsel asked the witness, whether he knew the person, who took the video and whether he can vouch of his or her credibility, the witness answered in the negative.

Fourteen persons are standing trial at an Accra High Court over the killing of Major Mahama, who was an officer of the 5th Infantry Battalion, at Burma Camp.

The late Major was on duty at Denkyira-Obuasi in the Central Region when on May 29, 2017, some residents allegedly mistook him for an armed robber and lynched him.
The mob had ignored his persistent plea that he was an officer of the Ghana Armed Forces.

The accused are William Baah, an Assemblymember of Denkyira Obuasi, Bernard Asamoah alias Daddy, Kofi Nyame alias Abortion, Akwasi Boah, Kwame Tuffour, Joseph Appiah Kubi, Michael Anim and Bismarck Donkor.

Others are John Bosie, Akwasi Baah, Charles Kwaning, Emmanuel Badu, Bismarck Abanga and Kwadwo Anima.

The court presided over by Justice Mariama Owusu adjourned the trial to July 24, 2019, for continuation.