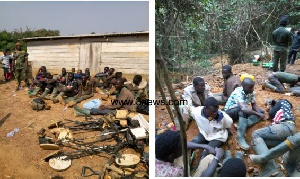 Twenty-nine suspected illegal miners of various nationalities have been arrested in the Atiwa Rain Forest Reserve.
They were rounded up Thursday evening by a team of Forestry Commission officers and the Rapid Task Force made up of security personnel in the Atiwa District of the Eastern Region.

The suspected illegal miners have been handed over to the Eastern Regional Police Command for further action.

The Forestry Commission said it had information some nationals suspected to be from Niger and Mali had entered the Atiwa Rain Forest and operating illegally with devices that can detect gold reserve and possible prospecting.
Forestry officials are hoping the police and the law courts ensure the arrested are prosecuted and a deterrent punishment given so that the Forest Reserve is protected.

The Atiwa Forest range contains the headwaters of three river systems – the Ayensu, Densu, and Birim rivers. Millions of the nation's population depend on these water sources