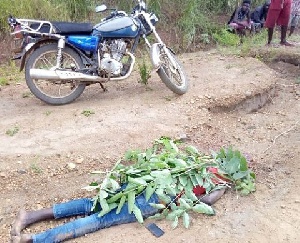 A 26-year-old man, Doh Mawufemor, has allegedly been murdered in cold blood at Gbagbadevi near Adaklu-Waya in the Adaklu District of the Volta Region.
According to reports, the deceased was allegedly murdered last Sunday dawn (October 28, 2018) at about 6:45am by one Francis Yao Tsigere believed to be in his late 40s.

Narrating the incident to DAILY GUIDE, the deceased's brother, Adzalo Venunye said Doh had just purchased a new motorbike on which he was riding home when he met a gentleman with a hoe on the way and offered him a ride.

Upon reaching a place around the Adaklu District Assembly, the passenger requested to urinate and so the deceased stopped the motorbike for him.

Out of the blue, Yao Francis began to hit Doh in the head with the hoe until he (Doh) gave up the ghost.

Unfortunately for the suspect, some community members saw the incident and ran to the scene to save the situation, but it was too late – Doh had died.

The suspect took to his heels to escape but luck eluded him as the residents outran him and apprehended him. He was held down until the police arrived to arrest him.
The deceased left behind a wife (Gifty) and two children – the older in primary 3 and the younger in primary 1.

Confirming the incident to DAILY GUIDE, the Municipal Police Commander, DSP Anthony Kamal Danso, said he had a report around 9:00am last Sunday that there was a murder case at Adaklu Kpedzi.

He quickly dispatched his men to the ground where they found the body of a young man aged about 26 lying in a pool of blood. After examining the body, they found deep cuts on the head of the man with exhibits of a club.

The suspect, Francis Yao Tsigere, who had been arrested through the assistance of the community members, has been assisting the police in their investigations, he added.

He revealed that the suspect who had been arraigned before the Ho Circuit Court since last Monday, October, 29, has been remanded while investigations into the matter continue.

Meanwhile, the body of the deceased has been moved to the Ho Municipal Hospital for preservation and autopsy.