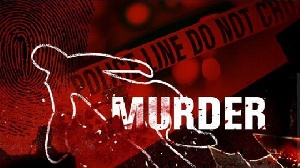 A man in his early 30s whose identity is yet to be established was on Thursday dawn gruesomely murdered at Santasi Zongo, a suburb of the Kumasi Metropolis in the Ashanti Region, MyNewsGh.com reports.
The deceased was tied and dumped in a gutter after being murdered by unknown assailant suspected to be robbers though residents claimed he is not known to the community.

When MyNewsGh.com reporters arrived at the scene, residents who had gathered to catch a glimpse of the murdered man indicated that they highly suspected robbers who have gained notoriety in tormenting residents to be behind the murder.

"Some places at Santasi have been declared as no go area because of armed robbers. When you are going to work around 5am they will attack you. When you close from work late they will attack. They normally come with weapons. If you misbehave when they are demanding something from you, they will either shoot or stab you to death" a resident revealed.
They therefore appealed to the Ashanti Regional Police Commander DCOP Kwasi Mensah Duku to strengthen security by deploying members of the police patrol team to the area.

The body of the deceased was conveyed to the Komfo Anokye Teaching Hospital morgue by the police for preservation while investigations have commenced to unravel the cause of death.