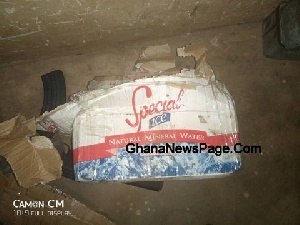 A Driver and his conductor have been arrested by the Police in Nkwanta for trying to smuggle arms and ammunition to Chereponi in the Northern Region.
The bullets were concealed in a special ice box and were on board a Metro Mass Transit (MMT) which was from Accra to Kpasa.

They were found in three packs with each pack containing 700 bullets. The MMT Bus upon reaching Nkwanta was subjected to a search by the police officers who were on duty.

The team led by Inspector Linus Akpatsa following a search on the bus saw the bullets concealed in the special ice box.

They then arrested the driver and the conductor who are currently in Police custody assisting with investigations.
Preliminary investigation however revealed that the bullets were to be sent to Chereponi where there have been clashes between Kokombas and Chekosis leading many to flee the town.

A curfew has been imposed on the Chereponi township effective Thursday, January 3 after the clashes had resulted in four deaths and left several wounded.

Homes were also set ablaze following the eruption of violence between Anufuls and Konkombas over a piece of land at Naduni.

Scores of military personnel have also been deployed to the area to keep the peace.