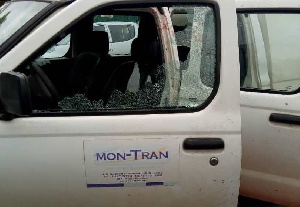 The Police Officer who mistakenly killed the driver of the bullion van he was guarding on Saturday has been interdicted.
The officer, Constable Antidu Osman with badge number 52397 mistakenly shot and killed and injured another at Manya Kpongunor in the Lower Manya Krobo Municipality of the Eastern Region on July 21.

Announcing the interdiction of constable Osman, the Director General of Police Public Affairs, Assistant Commissioner of Police (ACP) David Eklu said in a release Monday that: "On the unfortunate death of a bullion driver at Krobo-Odurnasi in the Eastern Region last Saturday, 21st July 2018. The Police Officer, No. 52397 Constable Antidu Osman who was escorting the bullion van has been interdicted pending further investigation."

DSP Ebenezer Tetteh PRO of the Eastern Regional Police Command who confirmed the incident said between the hours of 12:30 pm and 1:00 pm police received information that a police officer Constable Amidu Osman was returning from Akosombo to Koforidua on Special duty on Nissan Bullion van with no GN 1630-12.
On reaching Manya Kpongnor a suburb of Odumase-Krobo, a group of mourners blocked the road with a coffin containing a dead body, in an attempt to open up the road the police officer accidentally shot and killed the driver whose name is not yet known.

The driver, according to DSP Tetteh, died instantly. The Police officer is currently assisting with investigations.