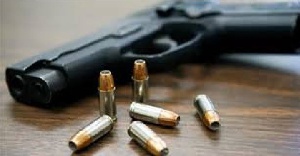 Reports have it that Radiance Filling station at Adeiso in the Upper West district of the Eastern Region have been invaded by well-built armed robbers at 1AM Friday dawn.
Narrating the incident on Nyankonton mu Nsem on Rainbow Radio 87.5 FM, Eastern Regional Correspondent, Prince Collins Benin said, the armed robbers on arrival struck the security personnel with a very huge metal while he was trying to shout for help and tied him with a rope.

Both male and female staff of Radiance Filling Station were also beaten mercilessly and tied as well. They managed to turn all the lights in the filling station off making it easier for them to gather a lot of assets namely mobile phones and the sales of the day which had not been put into their main safe, he added.

When a station master, Chief Inspector Kwasi Baah came with the police to the scene at the point where these robbers were busily breaking into the station's main safe, they were unable to fire any shot because the whole area was very dark.
They assumed that the workers were also lying at crime scene, he explained. One female staff member was also raped even though she was in her menstrual period by one of these robbers.

Her sorrowful pleas to the robber proved futile, he said sadly. The criminals have fled. Nevertheless, one out of the six robbers was shot on arrival by the police and the police are still on guard busily trying to arrest them.