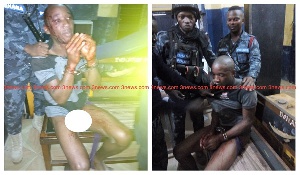 The alleged serial kidnapper who broke out of the Takoradi Central Police Station where he was being held for investigation into kidnapping cases, has been recaptured by the Police in the area.
Samuel Wilson was arrested from his hideout in Takoradi Thursday night, sources within the Bureau of National Investigations (BNI) told Takoradi-based Connect FM Friday.

Relatives of some kidnapped victims were called by BNI officials Friday morning to come and identify the suspect, our correspondent's report.

Meanwhile, the Police are yet to speak or give details of the re-arrest of the suspect who broke out of Police cell through a ventilation duct Sunday evening.

The suspect who the Police described as dangerous was first arrested by the BNI a week ago in an uncompleted building at Kansaworado, a suburb of Sekondi-Takoradi metropolis and handed over to the police for investigations.
But before investigations could begin for his prosecution, he was said to have on December 30, 2018, used a hacksaw blade to cut the metal railings covering a ventilation duct to the cell, to escape at about 4:30 pm on the blindside of seven police officers who were on duty at the time.

The seven police officers were this week "put behind bars" and given 10 days to produce the suspect or face prosecution.

But before the expiry of the date, the suspect, believed to be behind most of the kidnapping cases reported in the Sekondi-Takoradi metropolis in the last few months has been re-captured.

He is likely to face another prosecution for escaping from lawful custody.