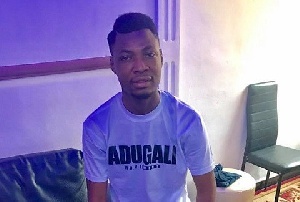 Maxwell Peter who is a known cyber fraudster within the Tamale Metropolis and his colleague Nigerians who were recently arrested by a combined team of security personnel from the Economic and Organised Crime Office (EOCO), INTERPOL and Bureau of National Investigations (BNI) will be extradited to the USA in order to face charges filed in the Western District of Tennessee.
Maxwell Atugba Abayeta aka Maxwell Peter, 26, and Babatunde Martins, 62, of Ghana and Bernard Emurhowhoariogho Okorhi, 39, a Nigerian citizen who resides in Ghana face charges conspiracy to commit wire fraud, wire fraud, conspiracy to commit money laundering, conspiracy to commit computer fraud, and aggravated identity fraud according to the United States (US) Department of Justice

Acting Assistant Attorney General John P. Cronan of the Justice Department's Criminal Division, U.S. Attorney D. Michael Dunavant of the Western District of Tennessee and Executive Assistant Director David T. Resch of the FBI in a statement sighted by MyNewsGh.com indicated that five others including a Ghanaian were also arrested in the US for their roles in the scam.

They include; Javier Luis Ramos Alonso, 28, a Mexican citizen residing in Seaside, California; James Dean, 65, of Plainfield, Indiana; Dana Brady, 61, of Auburn, Washington; Rashid Abdulai, 24, a Ghanaian citizen residing in the Bronx, New York.

Described as the 'Sakawa King' of Tamale, Maxwell Peter's show of wealth and extravagant lifestyle is not new to residents of the ancient town as he is reported to have built and living in one of the much talked about houses in the area.
It has been established that his arrest follows more than a year of investigations by EOCO in partnership with the Federal Bureau of Investigations (FBI) of the United States of America.

According to facts available, Maxwell and his gang of 19 reportedly used dubious means in defrauding a US-based company and individuals of 15 million dollars under the guise of supplying the, with gold bars but failed.

The suspects between 2012 and 2016 presented themselves as gold dealers and succeeded in getting the US-based companies and individuals to release a whopping $15Million to supply it with gold.

To ensure that their partners believed them, they created a bogus email usually containing either an attachment or a link to a malicious website which was linked to the said real estate company and infected the company's entire computer network and harvested information including company files, credentials and gave the accused persons access to sensitive information which aided them to dupe the company.