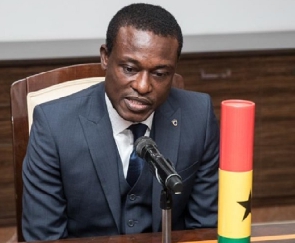 The Office of the Special Prosecutor (OSP) has posited that failure to declare the source of one's wealth is a crime under the laws of Ghana.
According to the OSP, people who are unable to declare the source of their wealth will be prosecuted and are liable to a prison term of at least two years.

"When convicted for failing to declare property and income, a person is liable to a jail term of not below two years and not more than four years or a fine of not less than five hundred penalty units or both," a tweet the OSP shared read.

The OSP is currently prosecuting four public servants whom it has arrested and charged for failing to declare their sources of income.

In a series of tweets shared on Friday, February 10, 2023, the OSP said that the public servants charged included James Keck Osei, an administrator at the Office of the Vice President, Dr Mahamudu Bawumia; Issah Seidu, a staff at the National Insurance Commission; John Abban and Peter Archibold, who are both senior Officers with the Customs Division of the Ghana Revenue Authority.

"Four persons, 3 public servants and 1 civil servant have been arrested and charged by OSP for failing to comply and declare sources of income in contravention of regulation 20 of LI2374.
"Mr. Siedu works with National Insurance Commission, James works with Office of the Vice President as an administrator and John and Peter are senior Officers with the Customs Division of the Ghana Revenue Authority," parts of the tweets read.

The Criminal Division of the High Court in Accra has granted three out of the four accused persons after they pleaded not guilty.

View the OSP's tweet below:


When convicted for failing to declare property and income, a person is liable to a jail term of not below two years and not more than four years or a fine of not less than five hundred penalty units or both.

The substantive case against the accused persons is under investigation

— Office of the Special Prosecutor-Ghana (@ospghana) February 13, 2023
You can also watch this edition of People & Places on GhanaWeb TV:





IB/DA