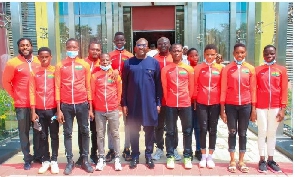 A delegation of top executives of the United States National Football League (NFL) and nine Ghanaian players selected to participate in a tournament in the USA, paid a courtesy call on Vice President Mahamudu Bawumia at the Jubilee House, Accra.
The NFL delegation, led by Thomas McHardy, a Senior Director of the NFL, was at the seat of government to introduce the selected nine Ghanaians players to Dr. Bawumia and thank him for his support and collaboration towards the NFL's introduction and development of the American Football League in Ghana.

The first-ever NFL tournament in Africa was hosted in Ghana in June last year, followed by an open day with NFL Legends in Accra.
The NFL organised an inter-school tournament dubbed: "NFL Flag Football", the first of its kind in Africa, to select nine players out of 400 to represent Ghana and Africa at the Pro Bowl this week in Las Vegas, USA.