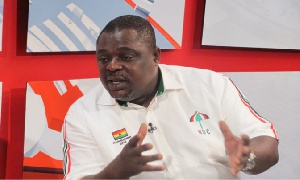 Deputy General Secretary of the opposition National Democratic Congress (NDC), Koku Anyidoho, has described 2017 as an eventful year.
In his message to Ghanaians as we approach the Christmas season, he said we should be grateful to God despite the challenges of the year.

Speaking to Kwame Tutu, on Frontline on Rainbow Radio 87.5Fm, he said on behalf of the NDC, I will extend our felicitations to Ghanaians and party supporters.

He used the opportunity to advise young people not be anxious about making quick money.
He said the youth should not envy people but rather work hard and avoid using evil means in making money.

''The advice to the young people is that, you must learn to climb the rope, you must prepare to learn and one of the greatest assets to be able to learn is humility, and able to accept to learn, you will make mistakes but when you are corrected, you have to accept and move on.''

''The youth of today, are not willing to climb the rope. They want to make quick money,'' he stressed.