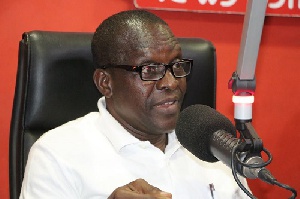 An aspiring presidential candidate of the opposition National Democratic Congress (NDC), Alban Bagbin has said that his party will approach the 2020 election with a 'do and die' mentality to ensure it regains power.
According to the astute politician, the NDC as a party has realized the mistakes they did prior to the 2016 general polls and that all those mistakes would be rectified before the 2020 election to ensure the NDC recapture power.

Bagbin made the remarks speaking on Ghana Amamuo on Abusua 96.5 FM, hosted by Austine Woode.

He say "I believe that there is hope, the lost was shocking to those who have no eyes to see and it was also shocking to those who are novices in politics.
The member of Parliament for Nadowli West continued "The way things went, particularly getting to the last two years of the NDC government any elderly person see afar that we were likely to lose the election and so some of us were not shocked because it seems we had erred in so many ways and so we have learnt our lessons and I believe that what his Excellency the former President did was the right thing being the leader to accept that it was because of his leadership that we lost".

"We have also done a scientific research on why we lost and that is why the Dr. Kwesi Botwe Committee did for the party and learning from those lessons, we are now improving on how to reorganize, revitalize, rebrand and recapture power and so 2020 is a do and die matter I can tell you and I want to repeat we will win 2020".

"And winning 2020 will mean a lot not just for NDC but for mother Ghana"