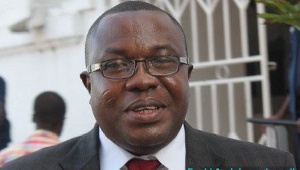 NDC National Vice Chairman Samuel Ofosu Ampofo has chided President Nana Akufo-Addo for preaching virtue to Ghanaians while he practices vice.
Contributing to a panel discusson on Peace FM's Kokrokoo, Mr. Ofosu Ampofo, who was obviously unhappy about the President's disposition stated categorically that he has turned himself into a "walking contradiction".

According to him, the President has been undertaking activities that he delightfully spoke against when he and the NPP were in opposition. After being voted for by Ghanaians and gaining power, Mr. Ofosu Ampofo noted the President is on a mission to operate a "family and friends" government; the very principle he preached against to win the hearts of Ghanaians during the 2016 elections.

Critics of the current administration have on numerous occasions, expressed outrage over the appointment of what they term a "family and friends government", claiming that out of 40 sector ministers he appointed, nineteen are his blood relations and or allies in the Ashanti and Eastern region.

They further alleged that the "family and friends" criterion for appointing Ministers was also extended to the appointment of deputy Ministers, Chief Executives and board members among others.
At a press conference early last year, National Chairman of the PPP, Nii Allotey Brew-Hammond, said President Nana Akufo-Addo's has reneged on his campaign promise to establish an all-inclusive government.

Recently, both Central Regional Chairman of the NDC, Bernard Allotey Jacobs, and Former NDC Member of Parliament for the Nanton constituency, Murtala Mohammed, condemned the president for leading a 'family and friends' government, claiming "ex-girlfriends and even unborn babies are grabbing juicy appointments."

Mr Ofosu Ampofo therefore noted that President Akufo-Addo simply wanted to accede to the Presidential seat and so deceived Ghanaians to get their acceptance.

"President Akufo Addo says one thing and does the opposite, he said he'll not form a government of family and friends, but he's done worse in the history of this country. He's a walking contradiction. He's not been able to live by his words and that is very bad", he said.