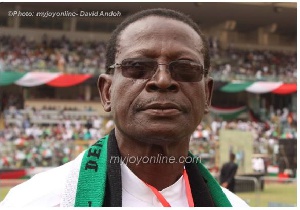 A former national chairman of the National Democratic Congress (NDC) Dr Kwabena Adjei believes President Akufo-Addo's age will augur well for Ghana's transformation.
He stressed he is "very happy" about the president's age – 72 – since it comes with a wealth of experience.

The NDC used Nana Addo's age in a subtle campaign against him, saying he is bereft of management ideas, making a case for its young candidate John Mahama to be retained. However, the former leader of the opposition feels otherwise. "I'm happy because he comes with a wealth of experience that will help and then a certain respectability from the elder people," Dr Adjei told Bola Ray on Starr Chat, Wednesday.

According to him, one of the reasons why Mahama lost the 2016 elections was because he surrounded himself with a lot of "inexperienced handlers".

"His [Mahama] handlers misled him. They were inexperienced. I will say this anywhere without fear or favour. We are all to blame," Dr. Adjei said. According to him, the younger handlers of Mahama prevented the older ones with "a wealth of experience" from getting closer to the President hence his miserable defeat.

"Now it is like, he is too old, he is 74, so we the young ones must take over. You [Bola Ray] the young one sitting here if I ask you the history of Ghana, you will not be able to tell me," Dr Adjei asked.
Losing the 2016 elections, Mahama became the first sitting president to have lost an election under the Fourth Republic. Nana Akufo-Addo floored him by about 900,000 margin.

Dr. Adjei noted he was sidelined throughout the elections, but he went out on his own way to contribute during the electioneering.

"I've a wealth of experience. The young ones failed to tap into our experience… the NDC has run into a ditch and we have to do our best to resurrect that party. Right now who becomes an executive member is out of place," Dr. Adjei advised party members.

"Yes! I'm very happy because, you go to the net, [internet] and find out the number of leaders in the world, from 90 down… Mugabe, Queen Elizabeth right down, Trump is there, Buhari is there, I'm happy Akufo-Addo is in, he is my age, I'm older than Akufo-Addo by a few months."