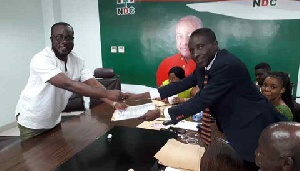 Aspiring Deputy National Communications Officer of the opposition National Democratic Congress (NDC), Alhaji Mohammed Naziru has promised to strengthen the party's communications at the grassroots.
He outlined two models he intends to adopt in order to make this quest a reality so as to make the NDC a formidable force to reckon with ahead of the 2020 polls.

In a statement he issued shortly after filing his nominations earlier this week, he observed that there is the need for concerted efforts in dealing with the communication deficit of the party to face off with the members of the ruling government.

Read full details of his statement below;

Having successfully filed our nominations, below is how we intend to assist the communications department of our great party(NDC)

The communication department of the NDC is struggling to catch up with the 21st-century media which comprises of the traditional media, the new media.
We don't have the temerity to control what the traditional media says and doesn't say about us and that's the only form that can be controlled and yet we can't control it, how then do we regulate the new media?

The Naziru tenure will introduce two modules of operation that will strengthen the elected branch, constituency and regional communication officers as well as appointed regional and national communicators.

The modules will be in a form of a course where they all undertake and help forge the alliance of togetherness and cooperation amongst communicators.

The two modules are:

1. Naziru's 4D Policy of Political Communication.
2. The Naziru's Unison of Voice Policy.

I'll delve into each in the coming days. Communication isn't all about speaking in the media, it's also about strategising, implementation and coordinating all elements to achieve a set goal.

The tenure of Naziru Mohammed as the Deputy National Communication Officer alongside the substantive will be history in the making.

Alhaj Mohammed Naziru.