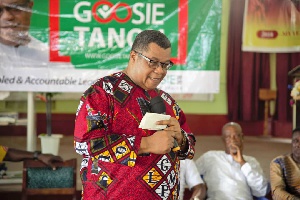 A flag bearer aspirant of the opposition National Democratic Congress (NDC), Goosie Tanoh has told delegates that all is not well with the party.
According to him, records show that the fortunes of the party have been dwindling since the NDC first won elections in 1992 and, therefore, any idea that all is rosy with the party is nothing but a fallacy.

"If NDC, of four million people, believe it is only one person who can give us salvation, then NDC is in big trouble," Mr Tanoh told the delegates at Dodowa in the Shai-Osudoku district as part of his 5-day tour of the Greater Accra Region.

He urged the delegates to make a wise decision in selecting a flag bearer to restore the image of the party.
"Not all is well with NDC. Let me explain something to you: When NDC was NDC and when we organised in the communities and mobilised the branches, we won the 1992 elections by 58 per cent, in 1996 we won by 57.6 per cent, in 2008 we won by 47,000 votes, less than one per cent. In 2012, we won by less than one per cent.

"All has not been well with the NDC, don't deceive yourself, and we lost massively in 2016 by one million votes. Don't make a mistake and think only NDC members can win an election, we can't. In the same way, not only NPP members can win an election, we need the people they call independent and floating voters who are about two to three million people, we need to attract them. In 2016, we did not attract them, ask yourself why? Shine your eyes."