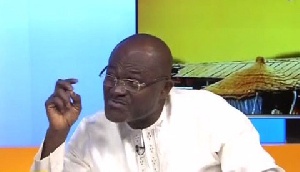 New Patriotic Party (NPP) Member of Parliament(MP) for Assin Central Honourable Kennedy Agyapong has stooped low to attack the person of National Democratic Congress (NDC) Member of Parliament (MP) Alhaji Alhassan Sayibu Suhuyini, describing him as a 'fool', 'an idiot' among other unsavory words.
This comes after a series of lawsuits filed against Mr Agyapong for defamation.

Kennedy Agyapong was speaking on Net2 TV's The Dialogue monitored by MyNewsGh.com. Mr Agyapong was condemning a call by the young NDC MP urging Northerners to vote for President John Mahama because he is a Northerner.

"Now I come to Suhuyini… " Kennedy Agypapong began as usual.

"Suhuyini said Northerners don't love each other. He should rather ask himself how they behave when they get rich as Northerners. He is a big fool!"

'They move to Accra and forget their people. I will prove to you he (Suhuyini) is a foolish boy. He said Ewes voted for Rawlings, Asantes voted for Kufuor and Fantes voted for Atta Mills so Northerners must vote for Mahama. That boy is a 'fooooool'. He is an idiot!" Kennedy Agyapong thundered.
"When you have MPs like this in parliament you are in trouble. That guy is stupid. He said Northerners don't love themselves because Mahama lost 11 seats. Mahama lost the seats because the people are rational. They learned a lesson after 2012. What Suhuyini said is dangerous." he added.

Prompted by the host not to use such harsh, offensive words on Mr Suhuyini, Kennedy Agyapong refused to heed the warning, telling the host of Net 2 TV's Dialogue "Don't interrupt me, he is an idiot. I have said it! He is a fool for him to have said that. It's a stupid comment to make." he went on as the Host cautioned him to withdraw but he refused.

"If you keep interrupting me over my words on him I won't come here again" he blackmailed.

"You can't take the Northerners for granted. Ghana is the leading country with houses and properties in Dubai and it is all for Northerners. You don't help your own people and you say they should vote for you."