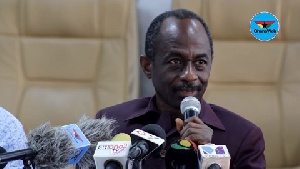 Johnson Asiedu Nketia's position as General Secretary of the opposition National Democratic Congress (NDC) is coming under serious threat.
One of the stalwarts of the opposition party, Bernard Allotey Jacobs, has stated that Mr Asiedu Nketia, popularly called 'General Mosquito,' should be voted out of office because he has outlived his usefulness to the party.

The immediate-past NDC Central Regional Chairman claimed there is 'mafia' at the NDC headquarters being led by General Mosquito, which was hampering the progress of the party.

General Mosquito's position has come under threat since his deputy Koku Anyidoho picked nomination forms to challenge him.

Some political analysts have predicted that Koku is likely to defeat the incumbent General Secretary during the Delegates' Congress in October.

Mr. Allotey Jacobs, aka 'Educated Fisherman,' said Koku Anyidoho, the Deputy General Secretary in charge of Operations, should rather be elected as the party's scribe instead of Mr. Asiedu-Nketia ahead of the 2020 general election.

Analysing the outcome of the NDC's Regional Delegates' Congress on Adom FM's current affairs programme, 'Burning Issues,' Allotey Jacobs said "for me personally, I'm supporting Koku Anyidoho. There is a need for a change at the NDC's headquarters. A lot of the mafia in the NDC headquarters must be changed."
He said he was in favour of blending both old and new executives to steer the affairs of the party but said the NDC is currently not being run properly.

Mr Jacobs said the party stands to lose in 2020 if the members do not replace people like Mr Asiedu Nketia.

Allotey Jacobs said there are old executives whose commitment to the party and organizational skills are commendable and must be supported to contest again.

He, however, cautioned the NDC not to underestimate the ruling NPP for the 2020 contest, saying "the NPP must not be taken for a joke and I keep on saying it, and I will always say it because our experience in politics gives us the dynamics so if we don't get the right people to stand up to the NPP, then forget it."

There are those who also believe that the NDC could lose many votes due to Anyidoho's arrogance and pomposity.