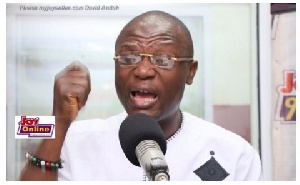 National Organiser of the National Democratic Congress (NDC) Kofi Adams says the recent pronouncement by some two leading members of the party is rather "not helping them".
Mr Adams says Alban Sumana Kingsford Bagbin and Sylvester Mensah are rather destroying the good they have done for the party.

Mr Bagbin, who is the country's longest serving Member of Parliament, and Mr Mensah, a former Chief Executive Officer of the National Health Insurance Scheme (NHIS), recently took a dig at former president John Dramani Mahama, saying, in effect, that his chances of leading the party are over.

While the Nadowli-Kaleo MP and the Second Deputy Speaker of Parliament said Mr Mahama has to bear the brunt of the record defeat the party suffered in the 2016 elections, Mr Mensah said the former Bole Bamboi MP's time is over.

But a petition has been filed with the party's Council of Elders to invite the two over comments.

The petitioners – Andrew Amadi Krow and Dzifa Gunu – want the Council to call the two to order, but sanction them, if possible.
Speaking on 3FM's Midday News on Friday, Mr Gunu said he just wants to draw the attention of the Council to the actions of the two, especially when Mr Bagbin was part of a meeting that asked members to desist from commenting on the 2016 debacle.

Also speaking on 3FM on Friday, Mr Adams said the two flagbearership aspirants are only serving their personal interests at the expense of the party's.

He said they are only jeopardizing their political future.

"It looks like all the good that they have done for the party, they are destroying it," he told 3FM's Kwakye Afreh Nuamah.

"It is not helping them."
He cautioned all other aspirants to be mindful of their utterances especially when campaigning, albeit subtly as nominations have not been opened.

He said not getting the platform to address members at the party's walks for unity should not trigger such attitude.

"They should stop all those things."