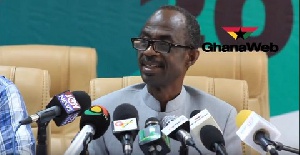 The General Secretary of the National Democratic Congress (NDC) Johnson Asiedu Nketia has said the call for an early congress by some party members is nothing new.
According to him, the party's constitution makes provision for an early congress hence those calling for such are not calling for anything new.

He was responding to calls by some members of the party for the NDC to go for an early congress after the humiliating defeat in the 2016 general elections.

The former Lawra/Nandom National Democratic Congress (NDC) Member of Parliament (MP), Dr Benjamin Kunbour, has noted that it would be in the interest of the party to hold an early congress to select a presidential candidate for the 2020 election.
Dr Kunbour said the NDC constitution should be 'explored in times of challenges,' adding that the time has come for the leadership of the party to "use those powers to resolve a number of issues, and I guess this is a useful thing we should be looking at."

Some groups affiliated with the party have also made the same call but responding to the call at a press conference held at the party's headquarters, Mr. Nketia said the party failed to respond to these calls because it is a constitutional provision and nothing new with the party.