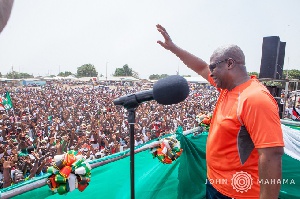 Former President John Dramani Mahama has explained the rationale behind the 'silence' on his intentions as far as vying for the flagbearership position for the 2020 elections is concerned.
Speaking to some supporters at the party's Unity Walk Saturday April 7 in Wa, Mr. Mahama said that his focus on the reorganization of the party for the 2020 elections has made it rather impossible for him to make immediate revelations about his bid.

According to him, the number of contenders for the flagbearership position will significantly increase should he declare disinterest in the position.

Similarly he explained, his current efforts at reorganizing the party will be linked to his utmost resolve to win the race should he declare an interest in leading the party to elections in 2020 for which reason he has decided to keep mute despite the pressure on him to reveal his stance.

"There are many who have declared their intention to run when the nominations are opened. I have been focusing on the reorganisation and so I have not made any intentions and I said rightly that if I declare that I will run or I would not run it will have implications for the reorganisation.

"If I say I would not run, then it means that the number of people who will intensify their activity to become the presidential candidates would increase in tempo."
"If I say I will run, then it will also have implications on the reorganisation exercise because then the focus will be the fact that I say I want to run so that is why I'm doing the things I want to do".

"As the immediate past leader who led the party into the elections of 2016 and we lost, I have a responsibility to make sure that the party is put back on its feet so that whoever leads it has a very good chance of taking us into victory. And that is my focus at the moment," he added

Despite endorsement from the ten regional chairmen of the party in November 2017 and other supporters of the party to lead the party as flagbearer in 2020, Mahama has declined to make known his intentions.



He remains unfazed regardless of the fact that a number of NDC stalwarts have already declared their readiness to lead the party into the polls, including Second Deputy Speaker and MP for Nadowli-Kaleo, Alban Bagbin, Dr. Spio-Garbrah, former minister of trade and industry, education, and communications; Mr Sylvester Mensah, former Chief Executive of the National Health Insurance Authority; Professor Joshua Alabi, former MP for La-Dadekotopon and Nii Amasah Namoale.


Mr. Mahama insists that his immediate focus is to reorganize the party and get it back on course such that it stands a greater chance at defeating its opponent, the New Patriotic Party (NPP) in the 2020 elections.