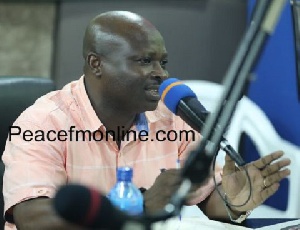 Member of Parliament for Bia East, Richard Acheampong has blamed the media in Ghana for encouraging violence in the country.
Commenting on the violent attacks on electorates during the Ayawaso West Wuogon by-election that resulted in a shooting incident, the Bia East MP told host Kwami Sefa Kayi that some media practitioners in the nation cannot absolve themselves from blame because they provide the ammunition for political figures to fan the flames of violence.

He spoke about how some journalists conduct their interviews and reportage which brings about divisiveness within the political divide of the country.

"Don't give us the opportunity to destroy this country of ours. You're part of it. You (media, show hosts) give us the platform . . .Enough is enough," he advised journalists on Peace FM's morning show 'Kokrokoo'.

Hon. Richard Acheampong also touched on the issue of security agencies in the nation, saying if they had gone about their duties professionally, to protect life and property, the Ayawaso West Wuogon situation would have been prevented.
He bemoaned the Rambo style conduct adopted by the security forces during the by-election, stating that the way and manner in which they (security) readily pounced and punched innocent people, exposed their ill-intents.

He asked security agencies and the government to "think about Ghana. We should devise means on how we can jealously guard and protect our infant democracy" to avoid any violent clashes in the future.