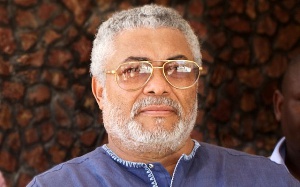 The National Democratic Congress (NDC) must heed warnings given by the founder of the party and former President, Jerry John Rawlings, a former National Organiser of the NDC, Yaw Boateng Gyan, has said.
According to him, Mr Rawlings wields enormous influence in the party and in the country and also has enough experience to assist the party to win power, therefore, the party executives must listen to him.

Mr Boatneg Gyan told Chief Jerry Forson, host of Ghana Yesom on Accra 100.5FM on Thursday, October 5 that: "Let us listen to Rawlings, he wields enough power and influence and has a lot of experience that we can benefit from.

"If we disagree with him on some of his utterances, we can go to his office and explain matters to him, not to fight him in the media. He trained most us and so when we disagree with him, we shouldn't lambast him in the media."

He further blamed the party's defeat in last year's elections on the neglect of past executives of the party.
He said :"After our congress in Kumasi when I lost my position, and also Dr Kwabena Agyei lost his position, we were cut off from activities of the parties.

"The new national executives did not call to even ask us for institution memories. This is not done in political parties and institutions in general, and that is the result we got in the elections.

"Dr Kwabena Agyei and myself, we were able to bring the party into power in the 2008 elections. In 2012 we worked to retain the party in power, even with that we were taken to court for eight months. We fought so hard to ensure we won the case.

"But for some strange reasons, we were voted out as executives of the party and the new executives also neglected us."