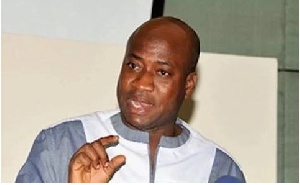 Thu, 24 Aug 2017 Source: Nii Ogbamey Tetteh
Murtala Mohammed, a former Deputy Minister of Trade and Industry, under the then Mahama led government has revealed that Ghanaians are yearning for the return of the National Democratic Congress (NDC) into government.
According to Murtala, since the New Patriotic Party (NPP) took over government January 2017, the country has been in a complete mess.

Murtala Mohammed who was speaking on Happy FM's 'Epa Hoa Da Ben?" show said even members of the NPP government have been complaining about the current mess in the country.

"Ghana is currently in a mess under the NPP government. Even their own party members like are complaining. Their own Kennedy Agyapong has been crying and shouting everywhere about the mess we currently have in this country. As for us, our only worry is that Ghanaians want us to come back into government. If you like, you can go to town and find out," he stated

He admitted that as to who leads the NDC for this 'comeback' mission was entirely an internal problem that the leading opposition party was currently working on.
"Whether former President John Dramani Mahama will lead the NDC or not is an internal problem that will be rectified when we go for congress. Once we choose somebody, I believe that the good people of this country will give him the mandate because what we are experiencing in Ghana currently is just legendary."

Meanwhile Member of Parliament for Nhyiaeso Constituency in the Ashanti Region, Kennedy Kankam, also stated on 'Epa Hoa Da Ben?' that so far as he was concerned, there has been a tremendous improvement in Ghana since the NPP took over government.

"So far us I am concerned, there has been a tremendous improvement in Ghana and it will continue to get better. As for the mess Murtala Mohammed is talking about, it depends on where you are coming from and how you want to see it.

"If you want to look at it objectively with respect to the law, you will see that the current Ghana is not the same as it was eight years ago.
Source: Nii Ogbamey Tetteh