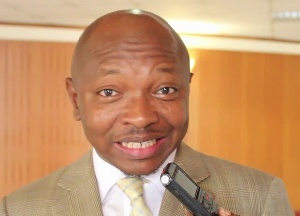 Weapon-wielding thugs on Saturday stormed an election venue at Kumbungu constituency in the Northern Region where the opposition National Democratic Congress (NDC) was conducting its executive elections.
Member of Parliament (MP) for the area Ras Mubarak who raised concerns about the presence of the hoodlums, disclosed that he had earlier picked intelligence that they were armed to the teeth and ready for violence.

According to him, he relayed the information to the security agencies but they appeared indifferent and was worried the thugs he refused to disclose whether party people or otherwise could pounce on innocent delegates who were voting in the nationwide exercise.

"There are hoodlums with guns threatening to shoot. The police managed to con?scate one but failed to arrest. The elections may run deep into the night and not a sign of the military", he revealed in a Facebook post sighted by MyNewsGh.com on his timeline which he deleted later.

Read the full text below:

God forbid but if there's trouble in my constituency, we would lay the blame squarely at the doorsteps of the military and the regional minister.
They've refused to heed anxious calls to beef up security. We had picked up Intel since Tuesday that some losing candidates in the ongoing constituency elections may stir up trouble.

I subsequently passed on the intel over the phone and followed up with a formal letter yesterday to the Military as the police were overstretched and quite incapable of dealing with any high-level threats to lives and property.

There are hoodlums with guns threatening to shoot. The police managed to con?scate one but failed to arrest.

The elections may run deep into the night and not a sign of the military. All the people want is a peaceful and fair election.

Asking for help to protect lives and property cannot be too much. The ?rst duty of the State is to protect lives"