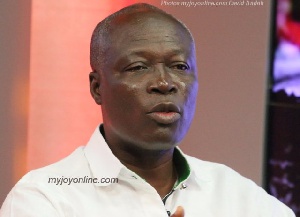 Ghanaian politician and the current Member of Parliament for the Odododiodoo constituency, Edwin Nii Lante Vandapuye has revealed that, he is the brain behind the 94 Minority MPs who have endorsed the candidature of former President John Dramani Mahama for the 2020 presidential slot.
The outspoken politician and former Sports Minister under Mr Mahama disclosed that, he was the one who mobilised the Minority MPs to support the return of the former number one gentleman. Mr Vandapuye made the disclosure at the declaration of interest by Sammy Gyamfi as candidate seeking to contest as National Communications Officer position.

The legislator who is heading the campaign team for the lawyer, told the supporters of the NDC that, I am the one who convinced the NDC MPs to support Mahama and in that same way, I will help you win the National Communications Officer slot.''

The MP has vowed to campaign across the length and breadth of the country for Sammy Gyamfi as the National Officer because he is apt, competent and the best bet for the NDC. Th4 94 MPs according to information gathered have since then formed a group called MPS4JM (Members of Parliament for John Mahama) and their number has increased from eighty to ninety-four with a few more expected to join.
They have been holding meetings to plan and strategize on how best to support the former President. The NDC has a total of one hundred and six (106) MPs. In furtherance of their cause, the MPs have levied themselves a one-time bulk amount in addition to a monthly contribution which is paid into an account solely opened for the cause.

The MP said, ''the Daily Post Publication with the caption, '94 MPs endorses former President Mahama'; It is true, I am the coordinator of the group.

The same way I have been able to marshal the MPs to endorse John Dramani Mahama; I am going to marshal all the forces and campaign for you.''