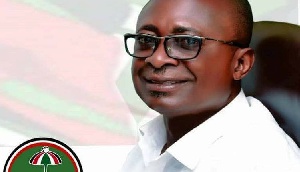 A founding member of the National Democratic Congress (NDC), Kwadwo Adu Gyamfi who is an aspiring Chairman in the Ashanti Region, has vowed he is seeking to lead his party just to "unite and win power and nothing else".
"The reason I want to be the Regional Chairman of my party is I want to unite the old and new executives of the party to win come 2020 elections and that is all". Mr. Kwadwo Adu Gyamfi said in an interview with Kumasi based Angel Fm monitored by MyNewsGh.com.

Mr. Gyamfi popularly known as KAYAD assured that, even after he has won power, he is going to step down for the young ones to take over because that is all he seeks to do.

"I will make sure I win power for the party and leave it for the young ones to continue from there. My ambition is just to win power for the NDC nothing else".
KAYAD, however, stated that when the young ones fail to maintain power in his absence, he will have no option than to come back and fix the broken party because all he seeks to do is win power for the NDC and retain it.

He promised he is going to win Parliamentary seats such as Adanse Asokwa, Tepa Constituency, New Adubiase, Asaswase which have been proven to be electoral hurdles for the NDC in the past years.