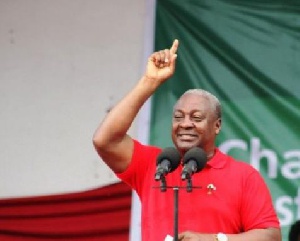 The Deputy General Secretary of the opposition National Democratic Congress (NDC), says he is surprised at the conduct of the party's 10 regional Chairmen who recently endorsed former President Mahama to lead them in 2020.
Mr George Lawson told GBC's George Asigri on "Behind the News" their behavior is in variance with the rules of the party hinting that some action could be applied against them.

According to him, since the said Regional Chairmen's meeting with Mr John Dramani Mahama was private, there was no need for them to come out to make such statements.

"Are you saying that anytime people visit the former president they should come and issue a statement"? He quizzed

He showed his displeasure in their action and said he was overly surprised.

"I was personally surprised when I heard of it…….. for I can't talk on behalf of the Functional Executives of the party, but I was surprised". He said.
When asked why he was surprised, he responded, "I'm surprised at everything, why should you go for a private meeting and come, put it in the public domain? I don't have any problem with them having meeting with the former president. It should stay there".

Mr Lawson's surprising statement come after the 10 regional Chairmen of the NDC signed a petition urging the former president to lead the party in 2020 general elections.

The petition which came after these regional chairmen closed door meeting with the ex-president revealed they have all rallied their support behind Mr Mahama. They believe he is the best candidate to lead the party.

Stephen Atubiga, a staunch member of the party who has also showed interest in contesting for the flagbearership of the party has said the "10 regional chairmen betrayed him".

Mr George Lawson who is also in charge of finance and administration urged his chairmen to help and focus on how the party could be reorganized.