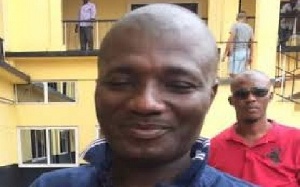 An NDC activist and avowed loyalist of former President John Mahama, Kweku Appiah aka Appiah Stadium, says he's ready to die anytime if his death is the only way to ensure ex President John Mahama recaptures power in 2020.
According to him, he wants someone to murder him so that his blood which will spill will be a sacrifice to pave way for the ex President to take up the reigns of power.

Appiah Stadium's voice is heard on several radio stations across the country almost on a daily basis brazenly defending ex President Mahama whenever he feels the latter is being attacked, and counters such attacks by raining praises on him espousing his achievements as President.

An eloquent and articulate communicator in local twi dialect, Appiah Stadium has consistently publicly stated he'll do everything possible within his might to ensure ex President John Mahama is elected again as the NDC's Flagbearer for the 2020 election as he believes the latter is the party's best bet to ensure victory at the polls.

On Monday Appiah Stadium's residence came under attack during which his car was burnt by persons he claims are members of the Invisible Forces, a pro-ruling New Patriotic Party(NPP) Vigilante group.
But the vociferous communicator has said the attack which he believes was intended to cow him into submission has rather emboldened him.

"I'll not stop talking today or tomorrow, I've gifted my blood to John Mahama. If I'll have to die to ensure he wrestles power from President Akufo Addo, then so be it. I want someone to kill me to pave way for John Mahama.

I've signed a will to gift my wife and two children(Juanita Mahama and Afia Serwaa) to John Mahama. I'll sacrifice my soul for Mahama, if it were not him, I wouldn't have had these two beautiful kids."