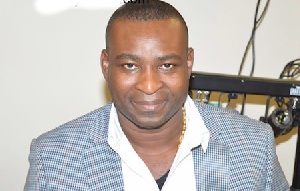 The Ashanti Regional Chairman of the New Patriotic Party, Mr. Bernard Antwi Boaisako, has swiftly responded to the notice served by Solicitors for Mr. Kwabena Agyapong calling on him to retarct and offer an unqualified apology to their client for an alleged slanderous statement they claim he made about him.
Mr. Bernard Antwi Boaisako, popularly known in the political circles as Chairman Wontumi maintains in an interview with Ghananewsreporters.com that any move to reinstate Mr. Kwabena Agyapong, a suspended General Secretary of the NPP, would trigger major backlash and cause an uproar within the party.

Lawyers for Mr. Kwabena Agyapong , Sarfo Gyamfi and Associates are asking Chairman Wontumi to retract a slanderous statement made against their client and his "tacit assurance that never again will you ever conduct yourself in such an unfortunate manner".

Chairman Wontumi is on record to have said on Neat FM that "Over my dead body; I will never allow Kwabena Agyapong to get reinstated as the NPP general secretary. This cannot happen...last year by this time, some people were working very hard to see the NPP lose the elections, and Kwabena Agyepong was one of them..." .

But Lawyers for the embattled Mr Agyepong contends that Chairman Wontumi's claims are only meant to expose him (Agyepong) to ridicule, distrust and contempt by all and sundry, especially members of the NPP who support and even voted for him.
They have therefore given Chairman Wontumi a Friday 3rd November, 2017 deadline, to retract and apologize for the defamatory unsavory remarks he made against Kwabena Agyepong on the same platforms he used; Nhyira FM in Kumasi and Accra based Neat FM.

But Chairman Wontumi claims he has no regret making those statement and "would never ever apologize to Mr. Kwabena Agyapong if that is what he is looking for".

He commended Sarfo Gyamfi and Associates for the good work they are doing for their client but promised them the instructions they have received from him would never materialize.

"The lawyers are doing their work well but unfortunately, this is an internal party matter and I am speaking the mind of the party to Kwabena. Kwabena knows very well that the party and I wouldn't welcome him back so get the message clear. I will never apologize to Kwabena Agyapong", Chairman Wontumi said.