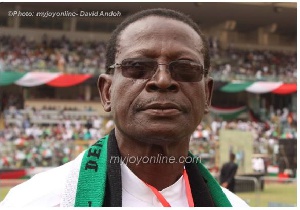 Following the current turmoil within the National Democratic Congress(NDC) as to who is responsible for the historical defeat of the party, the former member of parliament for Techiman on the ticket of the NDC Hon. Adjei Mensah has rebuked the former national Chairman of NDC Dr. Kwabena Adjei for his outbursts against the party.
Dr. Kwabena Adjei had stated that he was not surprised at the outcome of the 2016 presidential election since Former President John Mahama surrounded himself with "inexperienced" people

According to him, the party was certain to lose the elections after delegates also failed to re-elect him for another term as chairman of the party.

Speaking on the issue on Hot 93.9fm's morning show 'Maakye' hosted by Akwasi Boateng, former MP Hon.Adjei Mensah stressed emphatically that:

""If Dr. Kwabena Adjei is showing ingratitude towards the NDC, he is only invoking curses upon himself—the NDC gave you (Kwabena Adjei) the opportunity to become a member of parliament for 12years.
"With the support of the party executives, you were voted as the National Chairman of the NDC and you were also made the board chairman of Get-fund. If after all this you do not show any appreciation to the party, then I am highly disappointed in you".

He hinted that he is not surprised with the current situation in the party because if a political party loses an election, the members of the party one way or another has the right to express their grievances on what might have caused the defeat.

However, he has urged the NDC not to wash their dirty laundry in public but rather they should all come together to reorganize themselves and prepare for the 2020 general elections