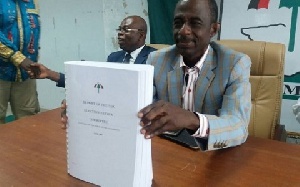 National Communications Officer of the opposition National Democratic Congress (NDC), Solomon Nksansah says the media is not treating the umbrella family fairly in its handling of the alleged leaked Kwesi Botchwey report.
"The NDC has not complained of a lost report, so where from the so called leaked Kwesi Botchwey report? I have made it clear that, there are some journalists and media houses in the country that have made their ambition to sabotage us and that they are doing everything possible to make sure the NDC does not come to power". Solomon Nkansah categorically stated.

He continued that, the NDC is not surprised at what the Daily Guide newspaper is doing.

"Why should people think the NDC was going to make the report available to media houses, are they members of the party" he quizzed.

"This reportage in the media about our party is not fair. We didn't set up the committee for them". He said.

According to him, the NDC as a party has no grudges with media houses but will however not sit unconcerned while some of them in the pursuit of a clandestine agenda cook stories meant to thwart its electoral fortunes.

Over the weekend, the Daily Guide newspaper published some portions of the Kwesi Botwey Report which it claimed it's a true copy of the said report.
Former president, John Dramani Mahama who led the NDC to the mournful defeat has described the alleged leaked report as "a handbook" adopted by some media houses and referred to as solutions to problems confronting the country.

"It appears KB report has been adopted by some media as the new handbook for any challenge facing GH". He said in a recent tweet.

The Prof. Kwesi Botwey Committee was formed by the NDC after the party lost in the 2016 general elections.

The terms of reference of the 13-member committee was to unearth the cause of the party's disgraceful defeat and proffer some recommendations.

But Mr Nkansah has categorically stated that, no NDC member has read the whole report and claims some media houses have the certified copies are untrue.