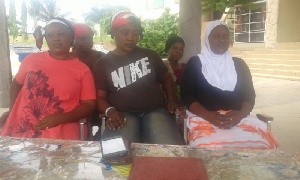 Tue, 26 Jun 2018 Source: Mark Boye
The Lower West Akim Constituency Women Organizer hopeful of the opposition National Democratic Congress (NDC) Hani Basiru has petitioned the party hierarchy to intervene and forestall an attempt to rig the just ended constituency elections in favour of her contender.
According to her she polled 53 votes as against her closest and only contender, who polled 51 out of total ballots of 105 with one reject after the count.

However, she alleged that immediately after she started jubilating, the EC officials added three votes to her contender's ballots to skew the results in favour of her contender.

In a petition to the EC office in Asamankese and copied to the Electoral Committee of the NDC, the Regional Electoral Committee and the National Review Committee, Madam Basiru stated "I want to register my protest and displeasure on the manner in which the women conference and voting especially counting was managed".

She said the guideline for the conduct of constituency women's elections article 6 indicates branch women organizers as delegates and no other person.
According to her, total number of branch women organizers who voted were 105.

"There was one spoilt ballot detected during counting of votes and disparities in the results from both ballot boxes i.e (women organizer's box and deputy women organizer's box). None of the voters refused to vote at any point, I therefore expect same results from the two boxes"

"The 53votes I had after counting, less the spoilt ballot does not make my contender a winner. I am of the view that the matter be looked into critically or fresh elections conducted," she added.
Source: Mark Boye