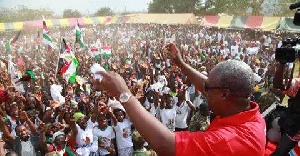 Alhaji Mohammed Muniru-Limuna, a former Northern Regional Minister has said that former president John Mahama is still the only obvious choice for the National Democratic Congress in 2020.
Speaking in an interview with Mynewsgh.com, the former regional campaign coordinator for John Mahama said, "He is the one who is spiritually and physically capable to lead the party to victory in 2020. It is either John Mahama or no one else. My prayer however is that he should accept to go as our candidate in 2020 despite claims by his family he will not run again."

According to him, as per the constitution, the John Mahama is still eligible to run for a second term as president of Ghana.

Alhaji Limuna noted that Mahama's administration was instrumental in developing the country, even though Ghanaians apparently have not expressed their gratitude to him. He noted that the former president's comeback in 2020 will require a boost in campaigns.

He also indicated that the defeat of the NDC could be traced to the youth of the party losing confidence in the leadership, which led to their failure to vote for the NDC.
"There were certain things we overlooked that cost us. There was disconnect from the top and the ground and the youth were a bit aggrieved and we needed to pay special attention to them. I commissioned someone to do a research and it proved that they were very angry and likely not to vote for us. I shared the report with other people but they did not give me the hearing," he said.

He further stated that the citizenry's desire for a change of political ideals leading the country may have influenced the electorate's decisions.

He stated, "It has now been put in the minds of Ghanaians that every government has a maximum of 8 years not because of what the government of the day can do for the people. All the good things and the struggling we did, they were not moved. All they wanted was change and you know God works in several ways and as a believer of faith there are reasons God does certain things."

Alhaji Limuna therefore urged the party's leadership to desist from the blame games and work on reuniting the broken branches of the party to ensure a strong comeback in the next election period. Read more: https://yen.com.gh/91830-mahama-spiritually-physically-capable-leading-ndc-minister.html