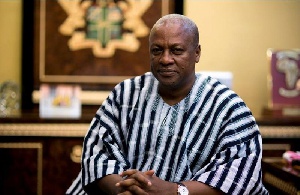 The District Chief Executive Officer for Amansie West District, William Asante Bediako has described former President John Dramai Mahama as the 'right candidate' to lead the opposition National Democratic Congress [NDC] in the 2020 Presidential polls.
Asante Bediako speaking on Abusua Nkmmo hosted by Kwame Adinkra said the NDC has no other better figure presently to lead the party than the former President hence should be should relax and prepare for the party's endorsement.

"John Mahama is the man who will lead the NDC in 2020 so he shouldn't worry himself at all he can even go to Dubai and have some rest since he's going to be the party's presidential nominee when the time comes.

" The NDC has no better person than Mahama to lead the party in 2020 and that is a fact" he added.
Last week, 10 regional Chairmen of the National Democratic Congress (NDC) during a visit called on him to consider leading the party in 2020 during a visit to him.

The former President however in statement responding to their request said it was premature for him to declare his decision either to contest or otherwise based on the recommendations of the Kwesi Botchway committee.