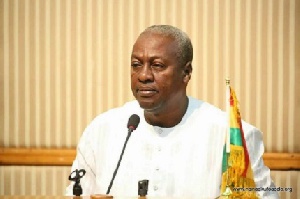 Former President John Mahama should follow the steps of other world leaders by seeking not to contest as flagbearer if National Democratic Congress (NDC) presidential ahead of the 2020 polls.
"The Tony Blaires, David Camerons, Hillary Clintons, they all stepped aside gracefully and allowed their party to breath and thrive", the immediate past Ghana's ambassador to Dubai, Daniel Osei has stated.

According to the diplomat, Mr. John Mahama should listen to the advice from the party leadership not to contest the party's presidential primaries to pave way for a new candidate to lead the party.

"He should listen to his own father's advice and leave the stage while the applause is loudest", the former appointee in the previous NDC administration stated.

" His popularity is starting to wane", Ambassador Daniel Osei observed
"JM owes it to the party to pull himself out of the running and stop the hemorrhaging of divisions his warped intentions to return as flag bearer are causing the party", he emphasized.

"The least he can do is to help preserve the integrity of the party and take steps that will unite the party", he admonished the former President.

"He did not come to the party with resources nor fight for votes for the party. …This party has been extremely kind to him", Ambassador Daniel Osei concluded.