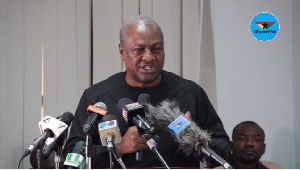 Information available to Today indicates that there is no unity among Minority members of Parliament (MPs), following the visit to former President John Dramani Mahama's Office last week by some 80 MPs to plead with him [Mr. Mahama] to contest the party's presidential primary next year.
According to these MPs, the choice of former President Dramani Mahama to lead the National Democratic Congress (NDC) in the 2020 election is non-negotiable.

"Mr Mahama is an ideal candidate to lead the party to victory in the 2020 poll, and we are committed to ensuring that this bidding is realised, hence our call on him to lead us," an MP who was part of the team that visited ex-Ghanaian leader said on condition of anonymity.

But little did they know that their visit and call on former President Dramani Mahama to lead the NDC in the 2020 poll would incur the wrath of their colleague MPs who do not support the comeback of Mr. Mahama.

According to our investigations, it is not only the case that the anti-Mahama MPs were fuming with anger, but more importantly, some national and regional executives of the party were equally incensed, describing the move by the 80 MPs as "unwarranted and selfish."

Conspicuously missing from the 80 MPs who went to former President Dramani Mahama's office were Alban Kingsford Sumana Bagbin, MP for Nadawli Kaleo Constituency in the Upper West Region, Alhaji Muntaka Mubarak, MP for Asawase Constituency in the Ashanti Region, Dr Zenator Rawlings, MP for Klottey Korley in the Greater Accra Region, Samuel Atta Mills, MP for Komenda Edina Eguafo-Abirem (KEEA) in the Central Region, Dr Alfred Okoe Vanderpuije MP for Ablekuma South in the Greater Accra Region and Joseph Naabu Bipoba, MP for Yunyoo in the Northern Region.
In an interview with Today at the weekend via telephone, an MP who pleaded to speak on condition of anonymity was against the whole idea of his colleague MPs asking for the comeback of former President Dramani Mahama. According to him, the NDC needs a new face in 2020.

However, the MP doubted if indeed it was true that 80 of them went to Mr. Mahama to plead with him to come back and lead the NDC as was disclosed by the MP for Builsa South, Dr. Clement Apaak.

"In fact I can tell you [referring to this reporter] that although some of us don't believe it, the mere fact that one of our own [referring to Dr. Apaak] has let us know their choice, it is going to affect our work in Parliament," he said.


According to him, "henceforth some of us who are not in support of the coming back of former President Dramani Mahama will find it difficult to share ideas with those supporting his comeback which in essence will not augur well for our parliamentary work."
Meanwhile, sources close to the leadership of the minority in Parliament and the NDC Adabraka national headquarters have revealed that all is not well with the largest opposition party, following the declaration that 80 of its MPs were in support of former president Mahama ahead of the party's presidential primary next year.

For instance, MPs believed to be loyalists of one of the presidential hopefuls, Mr Bagbin, according to our sources, at the weekend held a secret meeting somewhere in Koforidua in the Eastern Region to strategise on how to make life uncomfortable for the pro-Mahama camp in Parliament.

They could not understand why their colleagues would champion the cause of former President Dramani Mahama which in their view, he [Mr. Mahama] was the cause of the party's defeat in the 2016 election.

According to Bagbin's loyalists, they will resist any attempt(s) by their colleagues in Parliament to impose Mr. Dramani Mahama on them in 2020.

"How can we present somebody who has only one term per the country's constitution to lead us? They are trying to hide the Kwesi Botcwey report from us but some of us know that ex-President Dramani Mahama contributed largely to our defeat through his leadership style," they intimated.
They claimed that the Mahama faction in Parliament "are greedy and selfish and want to cover up their corrupt deeds and that is why they are bent on bringing him back."

They consequently warned that if the NDC wants to stay in opposition for long, then they should bring back Mr Mahama.


It would be recalled that the MP for Yunyoo, Joseph Naabu Bipoba, was among few NDC members who after the party's defeat kicked against the comeback of Mr. Mahama.
According to Mr Naabu Bipoba, "Mr Mahama will mess up more if he listens to those calling on him to contest the flag-bearership of the NDC."
He noted that those calling for Mr. Dramani Mahama's comeback were persons he made ministers and chief executive officers of state institutions.

He described Mr Dramani Mahama as "incompetent," and advised him to stay away from the party's presidential primary.