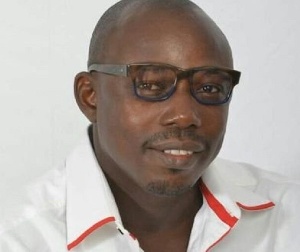 A fierce critic of Former President John Dramani Mahama, Dela Coffie has been disowned by the opposition National Democratic Congress (NDC).
General Secretary of the party Mr Johnson Asiedu Nketia on Accra-based Okay Fm on Monday, September 11, 2017 said he is not sure if Dela Coffie is still a member of the party.

"He is not my boy….he is speaks for Nana Konadu Agyemang Rawlings who is not a member of the NDC. I do not think he is a party member because he will not be saying and doing some of the things he is currently", he stated.

Dela Coffie who has been critical of former President John Dramani Mahama since the party's defeat at the 2016, is accusing him of nursing seeds of discourse and warned that attempts by the leadership of the party to impose him on the party as its flagbearer is a recipe for disaster.
He said the actions of the former president in respect to the Tamale Unity Walk amounts to usurping the powers of the current leadership bearing in mind that he is no longer the leader of the party after the disgraceful defeat and need to resort to structures in carrying out any activity.

But Mr Asiedu Nketia in response to accusations said, Dela Coffie who is a supporter of the Rawlings' is oblivious of the party's constitution.

"I do not think he knows what he is talking about…we went for a walk in Tamale even though it is not part of the reconciliatory activities proposed by the Kwesi Botchway Committee, that is how the Northern Regional Secretariat prepared itself to receive a committee put place by the National Council of the party to deal with differences", he explained.