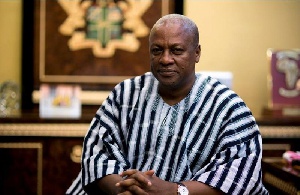 A pressure group within the opposition National Democratic Congress (NDC) known as Action Movement has described as illegal a planned meeting between former President John Mahama and Greater Accra Regional Executives of the party, as well as with former and sitting Members of Parliament within the party.
According to the group, Mr Mahama is campaigning for a comeback in 2020 and marketing himself ahead of other candidates contrary to the party's stance that nobody should campaign until it officially announces a campaign date.

Spokesperson of Action Movement Mr Kodzo Hamenya Keglo speaking on 505 on Class91.3FM on Monday, 17 July 2017 said everybody must be given an equal opportunity to campaign fairly.

He told Valentina Ofori-Afriyie that: "Our former president is gradually staging a comeback for 2020 which is good…he is touring the country and working hard but the Action Movement is only saying that we chanced on this press release from our regional executives signed by our Regional Secretary that our former president is inviting this category of people to an important meeting…

"Not long ago, the party gave an indication to everybody that we should all hold on including people who had interest to be candidates for the NDC in 2020 and that the time for campaigning will be given to them to kick start their campaign. But few months ago, we realised people were moving from one radio station to the other campaigning for the former president that he's the best candidate.

"We thought it's not the best. Now the former president is calling these categories of people and using our party structure, the regional executives, as people who are organising this. We are asking this simple question, where is our chairman"?
"Is it a political party meeting? The former president can use his private machinery to organise these people and meet them, but if he is using the regional executives and he is the one calling this meeting, we think that he is taking undue advantage over others who are also making themselves ready for the battle but are being obedient waiting for the party to give them the go ahead to do same. So we are saying in the Action Movement that he's taking undue advantage, he should wait."

But the Greater Accra Regional Organiser of the party Anthony Nukpenu said the former president's meeting with regional executives and former and sitting MPs form part of his thank you tour and not an attempt to campaign for a comeback.

"Former president Mahama as the leader who led the party to an election and then we were looking for victory and couldn't get has the mandate to go round and then thank the rank and file of the party and very well meaning Ghanaian for the support they gave him in the last election".

"He could have done this before handing over but due to other unforeseen circumstances that could not come on. NEC as a body has sat to discuss this issue on how he can embark on this thank you tour and he as the former leader has taken up that opportunity to thank the party rank and file and then everyone that matters in the last election".

"NEC approved this at our meetings," he stated, adding that "so he [Mahama] has nowhere breached any part of the party's constitution".