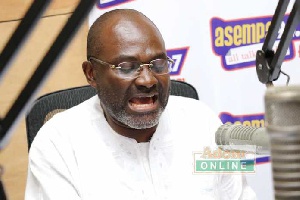 Member of Parliament for Assin Central, Kennedy Agyapong, has described the main opposition National Democratic Congress (NDC) as an "evil party".
The maverick New Patriotic Party (NPP) member was of the view that illegal mining popularly known as 'galamsey' escalated to unprecedented levels during the last tenures of the NDC while in government, yet they did nothing about it but the same party is now accusing President Nana Akufo-Addo, who is fixing the galamsey problem, of being up to no good.

Mr Agyapong said under the tenure of the NDC, a large parcel of land at Wassa Juabo forest in the Western Region, was given to a Canadian for prospecting, but the foreigner is now mining the forest illegally.

"Do you know the minerals in Canada? Why is it that he cannot go and perpetuate this foolish act in his home", the MP said on Net2TV's 'The Dialogue' on Wednesday, 22 August 2018.

According to him, the Chinese place so much importance on their environment back home, yet Ghana has allowed so many Chinese to engage in indiscriminate and illegal mining in the West African country to the detriment of its water bodies and forest reserves.

"The way the Chinese value their environment, the way they are protecting trees, why should we allow, why should we, Ghanaians, go and recruit Chinese people to come and destroy our forests?" he queried.

For him, the NDC allowed these acts to go on uncontrolled, and, so, he sees no reason why the NDC should fight the vision of President Nana Akufo-Addo to end galamsey.
Mr Agyapong disclosed that "most of the galamsay areas voted for Nana Akufo-Addo, so, the NDC is using the fight against galamsey to sabotage him [Akufo-Addo]".

He admonished Ghanaians to rally behind President Akufo-Addo's resolve to end the menace, which is destroying lands and water bodies.

The second reason on which he based his description of the NDC as an evil party, is what he described as the party's agendum to discredit and talk down the Free Senior High School (SHS) policy of the governing New Patriotic Party (NPP).

He explained that advanced countries have free education for their citizens and President Akufo-Addo is emulating such systems, yet the NDC is opposing it without offering better alternatives.

In his view, the NDC does not want development and progress for the nation hence, the schemes to run down President Akufo's Addo's government.