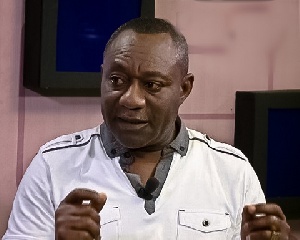 Henry Kwabena Kokofu, former Member of Parliament for Bantama in the Ashanti Region, has slammed the opposition National Democratic Congress (NDC) for their hypocrisy towards their founder and former president Jerry John Rawlings.
According to him, the party and its stalwarts only call on Mr. Rawlings when they are confronted with tough decisions and later denigrate him in public when the party gains political power.

"I wonder the behaviour of the NDC and John Mahama particularly, they only remember President Rawlings when they are stack and are in turmoil, but soon after they have gain political power, you will see them now insulting him here and there", he said.

"I thought the NDC would have left their founder to be on his own, but now their recent call on him is an indication of how desperate they are now", he added.

His comments come on the hills of the recent call on president Rawlings by former president John Dramani Mahama and a team of NDC members.

John Dramani Mahama on Wednesday, 22nd August 2018, together with a host of his former appointees called on Jerry John Rawlings at his office in Accra to deliberate on issues affecting the party.
The two former presidents centered their discussions on the re-organisation of the party, the upcoming regional and national executive elections as well as the presidential primaries for the party.

But speaking to host Kwaku Owusu Agyei on Anopa Kasapa on Kasapa Fm, the former Bantama legislator said although it was okay for the former presidents to meet, insults on Mr. Rawlings by appointees of John Mahama while he was a president seems to put the visitors in a bad light.

Meanwhile, leading figure in the recently launched "Organising for Ghana" (OfG) movement, Goosie Tanoh, has also called on Former President Jerry John Rawlings as he considers running for the Presidency in 2020 on the ticket of the NDC.