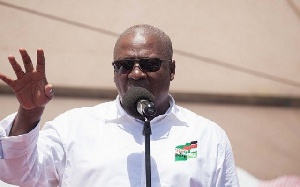 Former President John Dramani Mahama, has appealed to Ghanaians to stop describing every politician as liars.
According to him, if there is a political party infested with liars, it should be the ruling New Patriotic Party and not the opposition National Democratic Congress.

In his view, that notion is wrong, arguing not all politicians lie to win power. He insisted the NDC only tell Ghanaians what they can do but NPP always lie their way into power.

Speaking to delegates in Gushegu as part of his Northern Regional campaign tour, Mr Mahama said: "If because you want to win power you make lofty promises, what you do is to shake the confidence of the people in democratic governance. So today you hear people say I won't even vote again because politicians don't tell the truth.

Don't say politicians don't tell the truth, but say NPP don't tell the truth". He added: "the NPP in 2016 promised to provide every district with a factory, provide every village with a dam, provide 1 million dollars to every constituency and provide jobs to the teeming unemployed youth among many other lofty promises". He slammed the NPP for failing to fulfill their campaign promises.
Touting some his achieved promises, Mr Mahama made reference to the Eastern Corridor road which has now been abandoned by the government, building hospitals and CHPS compounds and expanding educational infrastructure like the E-Block Community Day Schools, among many others.

The NDC as a party he concluded has a track record of great economic performance compared to the incompetence being exhibited by the NPP.