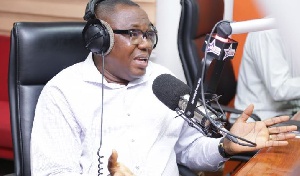 Director of Elections of the National Democratic Congress (NDC), Samuel Ofosu-Ampofo, has expressed satisfaction in relation to the opposition party's constituency elections.
According to him, adequate measures are in place to ensure the safety of delegates and a successful poll if the process runs deep into the night due to the rains on Saturday 23 June 2018.

He disclosed that the party has constituted a committee to resolve any issues that will arise due to the elections.

He lauded party delegates participating in the polls after his visit to some polling centres in the Greater Accra region.

"So far indications are that this is going to be one of the most peaceful elections that the NDC has conducted and I want to commend the rank and file of the party members for the show of political maturity and the fact that we have come to accept internal democracy as one of the ways to go if we are to rebuild our party and work towards 2020," he said during an interview with Class FM's Ibrahim Obeng-Mensah, who visited some of the election centres.

He expressed hope that the party will get the best constituency leaders to help them win the general elections in 2020.
Meanwhile, party founder Jerry John Rawlings has called on delegates to elect credible and committed executives.

In a goodwill message, former President Rawlings said the process must be based on transparency, equity and fairness.

The message read: "As the National Democratic Congress undertakes constituency elections across all constituencies in the country to elect party executives, I urge delegates to take the process seriously.

"This is a process aimed at selecting persons who will manage the grassroots of our party and that process must be based on transparency, equity and fairness.

"I urge delegates to vote for credible and committed members of the party whose desire is to restore the core founding principles of truth, integrity, probity and accountability.
"The openness and smooth conclusion of the electoral process would be an indicator of our readiness for the selection of national level officers later this year.

"Our choices must reflect the face of a rejuvenated NDC desirous of moving on from the challenges that cost us dearly in 2016.

"I wish all delegates and candidates well and pray that the process would be incident-free. May the best candidates win".