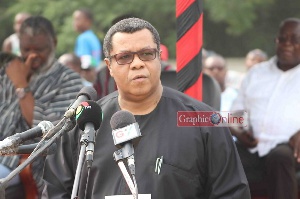 Two groups are calling on former PNDC capo, Goosie Tanoh, to run for the flag bearer slot of the main opposition National Democratic Congress (NDC).
One of them, a youth group within the party, Youth Action for Development (YAD), said in a statement that Mr Tanoh is best-placed to lead the NDC's re-organisation, restore credibility to the party and promote its wholesome values into the 2020 elections.

The other group, Greater Nzema Development Association (TGNDA), also, in a statement, said Mr Tanoh is closely attached to the grassroots of the NDC, making him the right candidate for the flag bearer slot.

"We all attest to the fact that for any leader to contest for such a sensitive presidential race, he/she must be someone who is competent, a unifier, fair and honest, experienced, knowledgeable, hardworking, trustworthy, humble, inspiring and courageous. All these attributes are not exceptional when it comes to Mr Goosie Tanoh's personality and leadership," the statement added.

Mr Tanoh was a special assistant to the Chairman of the Provisional National Defence Council (PNDC) and Head of State of Ghana, Flt. Lt. Jerry John Rawlings.
In 1982, he was appointed as a member of the National Defence Committee (the principal political organ of the PNDC) and it's Standing Committee.

He was also a member of the Consultative Assembly which wrote Ghana's 1992 constitution, as a representative of the Committees for the Defence of the Revolution (CDR). He was a leading figure in the Forum for Sustainable Development, which was the principal strategist in the design of the NDC structure, constitution and symbol.

The groups said although Mr Tanoh has since 2004 avoided the limelight, he has been extremely active in promoting and supporting grassroots work in the party and has provided critical election campaign support for both President Mills and President Mahama and several parliamentary candidates.

If he accepts to contest, Mr Tanoh will be competing against private legal practitioner Elikplim Agbemava; former Vice-Chancellor of the University for Professional Studies, Accra (UPSA), Professor Joshua Alabi; former CEO of the National Health Insurance Authority, Sylvester Mensah; former Trade Minister Ekwow Spio-Garbrah; former President John Mahama, Nadowli-Kaleo MP Alban Bagbin and Mr Stephen Atubiga.