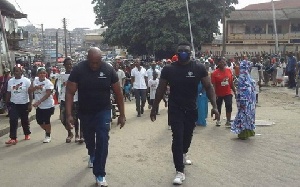 The former Power Minister, Dr. Kwabena Donkor has condemned the formation of a vigilante group in the opposition National Democratic Congress (NDC) christened 'The Hawks' to ostensibly counter the Invisible and Delta forces of the New Patriotic Party (NPP).
'The Hawks' was unveiled during the NDC's Unity Walk in Kumasi.

The creation of 'The Hawks' comes on the back of calls by the National Commission for Civic Education (NCCE), to both the NPP and the NDC and other political parties, to dissolve all vigilante groups within their respective parties.

That, according to the NCCE, would "avoid any further and future undemocratic activities from such groups."

Speaking to Starr News' Ibrahim ALhassan, Dr. Donkor who is also the Member of Parliament for Pru East said the creation of 'The Hawks' by the NDC will not augur well for the state.

He said: "…We saw the negative manifestation of these groups beginning in the Ashanti Region where the appointed National Security Coordinator being forcefully ejected from office by these groups.
"It didn't end there, we saw the premises of competent jurisdiction being invaded by this group and freeing people in lawful custody and threatening to cause mayhem.

"And as a nation, we seemed to have grudgingly kept quiet and now another group has emerged called the Hawks ostensibly associated with the NDC even though, the NDC as a party has formally come out to disassociate itself with the group.

"But a leading member of the party in the Ashanti region came out to say he formed the group…This does not augur well for the country. "

According to him, when the Invisible and Delta forces emerged "if the Ghanaian state had put its foot down new ones wouldn't have emerged."