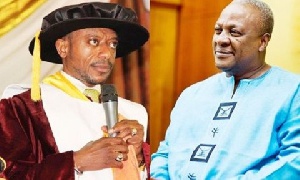 Founder and President of Glorious Word Power Ministry, Prophet Isaac Owusu Bempah, is considering quitting his job as a preacher and a prophet should his prophecy that "Mahama can never be President again" backfire.
The man-of-God strongly believes former President John Dramani Mahama has no chance of leading the country again.

Speaking on NEAT FM's morning show dubbed 'Ghana Montie, Rev Owusu Bempah intimated that God had revealed to him that any attempt to have Mr. Mahama back to the presidency will be in futility.

"No human being can change what God has said. I respect former President Mahama but God says he can never be President of the country again. He has been helpful to Ghana; he's done what he can so I wish him well in all his endeavors. But to become the President of Ghana, it will never happen," he told host Mc-Jerry Osei Agyemang.

Rev Owusu Bempah has earlier noted that God had rejected Mahama because he had soiled himself with innocent blood – but the former President recently has given the indication that, he will return as a 'strong' person to contest the presidency in 2020.


This according to Rev Owusu Bempah will not happen because "God has already spoken through me".

"I can't change what God has said, if I do, God will punish me and I can't stand His punishment....I might even quit....Mahama can never be President again in Ghana until thy kingdom come," he said.